Product introduction:
Guangdong Xintao Activated Molecular Sieve Powder is dehydrated synthetic powder molecular sieve. With the character of high dispersibility and rapid adsorbability. It is used in some special absorptive circumstances, such as being formless desiccant, being adsorbent mixed with other materials etc.
It can remove water eliminate bubbles, increase uniformity and strength when being additive or base in paint, resin and some adhesives. It can also be used as desiccant in insulating glass rubber spacer.
Technical Parameter:
Model

Activated Molecular Sieve Powder

Color

White

Nominal pore diameter

3 angstroms; 4 angstroms; 5 angstroms; 10 angstroms

Shape

Powder

Type

3A

4A

5A

13X

Size (μm)

2~4

2~4

2~4

2-4

Bulk density (g/ml)

≥0.45

≥0.45

≥0.45

≥0.40

Static water absorption (%)

≥23

≥24

≥25

≥27

Water content (%)

≤2.0

≤2.0

≤2.0

≤2.0

Size:

2-4μm equal to 300-325mesh
Typical application:
(1)2K-Polyurethane coatings and mouldings
(2)1K-Polyurethane storage protection
(3)Storage protection for metallic pigment paint
(4)Polysulfide and silicone systems
(5)Carriers for chemicals for controlled release
(6)Processing aid for polymer production
(7)Desiccant for the production of polymer desiccant materials
(8)Cosmetics additive
(9)Storage protection additives for highly hygroscopic goods
(10)Additives for flame retardants
(11)Shift of chemical reaction by removal of water as by product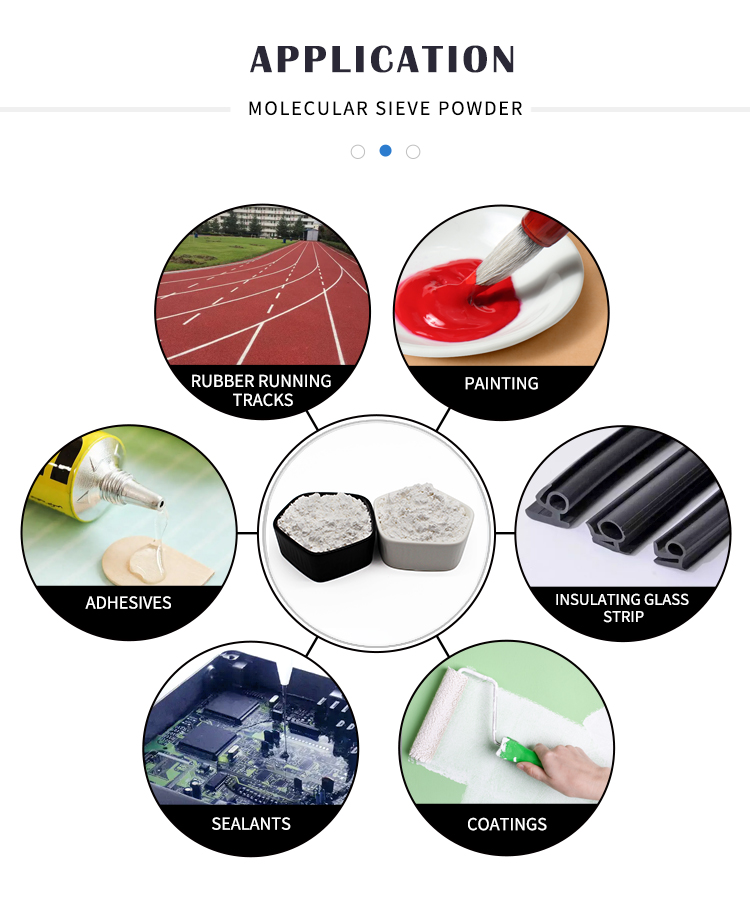 Attention:
The product as a desiccant can not be exposed in the open air and should be stored in dry condition with air-proof package.